Healthy and smiling faces with O-CHA! World O-CHA (Tea) Festival 2022
Preparations for the 8th World O-CHA (Tea) Festival
Regarding the circumstances surrounding tea in recent years, domestic annual green tea consumption per household has been declining in Japan due to factors such as diversification of lifestyles, but international demand is growing as the functions and benefits of green tea have attracted attention due to greater health consciousness.
Furthermore, as tea is more than simply a favored beverage, it is also becoming popular as a tool to soothe the mind and facilitate communication. Promoting cultural exchanges through tea, which holds the spirit of hospitality, is extremely important to contribute to mutual understanding between differing cultures.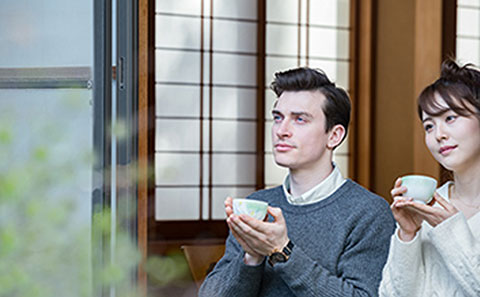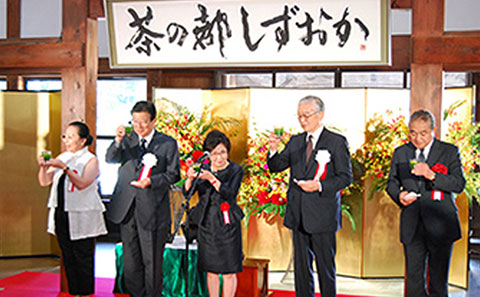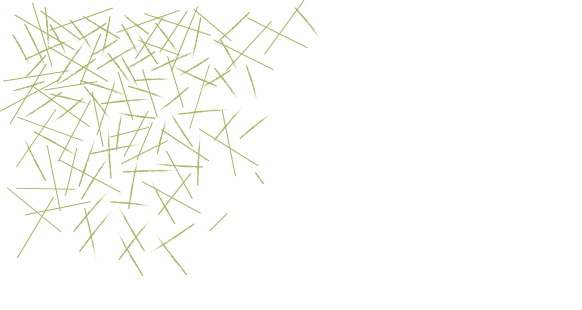 Since 2001, the World O-CHA Festival has been held once every three years to spread information about tea and its benefits in Japan and throughout the world. This is the first general exhibition dedicated to tea held in the country. The previous edition, the 7th World O-CHA Festival welcomed more than 156,000 visitors from 27 countries and regions in the world, increasing even further the international recognition of Shizuoka as the "Tea Capital" and the center of the production, distribution and research on tea.

Now that the lifestyles and demand of people have greatly changed due to the pandemic of the novel coronavirus, we would like to offer tea in a way that matches the lifestyles during and after the pandemic, communicate even more on the benefits of tea, and create new demand for tea in order to live up to what has been achieved so far. Together with invigorating the tea industry and people all around the world with tea, these are the goals of the 8th World O-CHA Festival that will be held in 2022.
Name
8th World O-CHA (Tea) Festival
Publicity Name
World O-CHA (Tea) Festival 2022
Goals
Create new demand for tea
Inform the world about the benefits of Japanese tea
Offer tea in a way that matches the lifestyles during and after the novel coronavirus pandemic
Theme
Happy smiles with O-CHA(Tea)!
Spring Festival
May 1st - 15th 2022
The Spring World O-CHA Festival week will be organized in the entire prefecture
Autumn Festival
October 20th - 23rd 2022 (four days)
Shizuoka Convention & Arts Center "GRANSHIP"
The 8th World O-CHA (Tea) Festival Executive Committee
| Position | Name | Professional occupation |
| --- | --- | --- |
| Consultant | Heita Kawakatsu | Governor of Shizuoka Prefecture |
| President | Tsunenari Tokugawa | Honorary President of the Tokugawa Memorial Foundation |
| Deputy president | Iehiro Tokugawa | President of the Tokugawa Memorial Foundation |
| Member (vice-president) | Isao Kumakura | Director of Tea Museum of Shizuoka |
| Member (vice-president) | Kazuko Goto | Culinary researcher |
| Member (auditor) | Kumiko Hashimoto | President and Representative Director of Yoshimura |
| Member (auditor) | Hiroaki Mochizuki | Managing Director of Shizuoka Prefectural Tourism Association |
| Member | Hachiro Honjo | President and Representative Director of Ito En |
| Member | Yoko Kamikawa | President of the Chamber of Tea Association of Shizuoka Prefecture |
| Member | Yoshikazu Aoyama | President of the Central Union of Agricultural Cooperatives in Shizuoka |
| Member | Katsunori Kobata | President of the Japan Society of Tea Science and Technology |
| Member | Yoriko Watannabe | Vice-President of University of Shizuoka |
| Member | Yoriyuki Nakamura | President of the Tea Science Center at University of Shizuoka |
| Member | Wakana Kobayashi | Director of the Nihoncha Instructor Association |
| Member | Sumiko Suzuki | President of the Shizuoka Cultural Foundation |
| Member | MitsuruNakamura | Senior Managing Director of the World Green Tea Association |
| Member | Toshiro Misu | Head of the Economy and Industry Department of Shizuoka Prefecture |